Wednesday, October 3rd, 2018
Tim Wilson and Kevin Hendrey submitted their PhD theses today, both supervised by David Wood. Congratulations Tim, Kevin and David! Tim's thesis title is "Anagram-Free Graph Colouring and Colour Schemes". Kevin's thesis title is "Extremal Graph Theory for Minors, Improper Colourings and Gonality".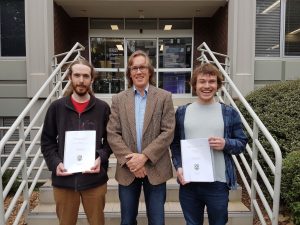 Update February 2019: Both Kevin and Tim have passed. Congratulations Dr Hendrey and Dr Wilson!